No more problems with clinging segments
Acoustic blowers effectively prevent the adhesion of fine fractions in industrial boilers, fans or other devices for storing and transporting bulk materials.
Acoustic blowers create high-power, low-frequency sound waves. In a titanium, moving diaphragm, a series of sound waves cause resonance. Therefore, segments accumulated on the surface of pipes, blades, braces and other elements are detached and fall freely towards the outlet.
BOILERS
Cleans exchanger tubes.

BAG FILTERS
Increases filter life.

ELECTROFILTERS
It replaces the system of flicking rods.

SILOS
Eliminates the formation of tunnels and vaults.

TANKS
Prevents sticking to vertical walls.

SCR SYSTEMS
Effectively cleans catalysts.
Due to acoustic blowers you can gain:

Smooth installation operation without stoppages

Reducing the number of breaks for cleaning

Low operating and maintenance costs

Easy installation

Low investment costs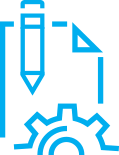 Complete service: design + installation
In the field of acoustic blowers, we close collaborate with manufacturers and distributors of the most effective solutions: Control Concept (USA), Mosa Solution (Czech Republic) and Siemens.
Ask for more details